Ashland has a unique mix of small town values, a simpler way of life with a wide range of cultural opportunities (usually found in Larger cities) and the natural beauty of the Rogue Valley.
It is a truly special place to live.
LOCATION: Ashland is just 15 miles North of the California border, on the West side of Interstate Highway 5. We are located in the South end of the Rogue Valley surrounded by the Cascade Mountains a few miles to the East and the Siskiyou Mountains to the West. We are about 6 hours by car from San Francisco and 3 hours from the Pacific Ocean.
POPULATION: Approximately 20,000.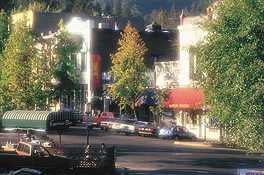 ELEVATION: 2,000 feet above sea level.
WEATHER AND CLIMATE: With 4 distinct seasons, the average rainfall is 19 inches per year. Mean summertime high is about 85 degrees and mean wintertime high is about 46 degrees. The 170 day growing season begins April 30th. The average humidity in spring is 65%, summer 52%, fall 70% and winter 83%.
Click here to see weather statistics (From Oregon Climate Service website - Oregon State University)
CITY GOVERNMENT: Mayor and City Council, 15 advisory boards and committees staffed by volunteer citizens.
SCHOOLS: Public-3 elementary, 1 mid-high, 1 high school and Southern Oregon University with 5,130 students, offering 37 baccalaureate and 8 graduate degree programs. Private: Montessori, Oregon Conservatory of Performing Arts, Rogue Valley Christian, St. Mary's and many others.
REAL ESTATE: The average price of a home sold in Ashland in:

2010 was about $345,000 (average down 8% over 2009) (Median= $300,000 down 8%)

2011 was about $333,000 (average down 3% over 2010) (Median= $290,000 down 3%)

2012 was about $346,000 (average up 4% over 2011) (Median= $312,000 up 8%)

2013 was about $362,000 (average up 5% over 2012) (Median= $325,000 up 4%)

2014 was about $387,000 (average up 7% over 2013) (Median= $362,000 up 11%)

2015 was about $431,000 (average up 11% over 2014) (Median= $389,000 up 7%)

2016 was about $468,000 (average up 9% over 2015) (Median= $424,000 up 9%)

2017 was about $486,000 (average up 4% over 2016 (Median= $465,000 up 10%)

2018 was about $508,000 (average up 5% over 2017) (Median $460,000 down 1%)

The market here has proven to be stable and favorable for long-term investment. (These Statistics from Southern Oregon Multiple Listing Service, include only single family residences in the Ashland city limits)

PROPERTY TAXES

: Approximately $15 per $1,000 of the "assessed" market value (not the purchase price of the property). The assessed value for taxes is determined by the county each year.
STATE INCOME TAX RATE: 9%
TRANSPORTATION: Rogue Valley International - Medford Airport is just 25 minutes North in Medford. Rogue Valley Transit District (RVTD) provides bus service within Ashland and also to Medford.
RECREATION: Mt. Ashland, only minutes away, offers day and night downhill skiing for the novice and expert. Cross country skiing, hiking (Pacific Crest Trail runs within 10 miles of town), fishing at one of the three lakes around Ashland or on the nearby renowned Rogue River. Water skiing, swimming or enjoying a day of fun at the Emigrant Lake park and water slide just 10 minutes away. There are seven golf courses in the Ashland-Medford area.
SHOPPING: Ashland stores have most everything you need with 5 major supermarkets, department store, hardware store and many small boutiques. There is also a regional shopping mall in Medford, just a 15 minute drive North.
ARTS AND ENTERTAINMENT: Ashland is home of the Tony Award winning Oregon Shakespeare Festival which runs plays from February through October, with over 700 performances and 10 plays of a Shakespeare, classic and contemporary mix. There are also about 5 other theater groups based in Ashland. The nearby National Historic Landmark town of Jacksonville hosts the summer Britt Festival, booking nationally known entertainers like Ray Charles, Dave Brubeck, Sheryl Crow or our local Rogue Valley Symphony for an evening of entertainment under the stars in a romantic outdoor setting.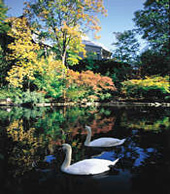 PARKS: Beautiful Lithia Park in Ashland covers 100 acres beginning right off the Plaza at the center of downtown and has a children's playground, two duck ponds, tennis courts and a band shell where free concerts are given on warm summer evenings. There are seven other neighborhood parks throughout Ashland.
RELIGIOUS AND SPIRITUAL: The area has 36 groups representing Christian, Jewish, Unitarian, Unity, Buddhist, Islam and other points of view.